Safety Net Collaborative a win-win for VCU and Richmond
November 19, 2015
By Jack Carmichael
When three safety net primary care clinics in Richmond found they could not fully meet the mental health needs of their patients, they knew they had to find a solution to provide these critical services to the city's most vulnerable populations.
With over half of all patients receiving substandard or no mental health care, the clinics needed to provide thousands of behavioral care sessions to their patients. But where to find a group psychologists willing to contribute hundreds of hours of work at little or no cost?
Bruce Rybarczyk, Ph.D., a professor in VCU's Department of Psychology, had the perfect answer: his doctoral trainees. As a result, since 2008 trainees have delivered over 10,000 pro bono sessions at the Ambulatory Care Center on the MCV Campus, the Daily Planet for the Homeless and the Fan Free Clinic. A fourth clinic, VCU's Hayes E. Willis Health Center, was added in August.
The Safety Net Primary Care Psychology Collaborative has proved fruitful for everyone involved. The clinics are able to better cover the mental health needs of their patients, while the doctoral students get valuable experience working with a wide-range of patients. Most importantly, the medically underserved in the Richmond community get access to the care they need.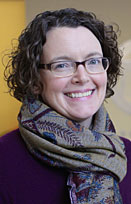 Waller
Rachel Waller, M'99, has seen the benefits of the collaborative firsthand through her work on the internal medicine service at the Ambulatory Care Center.
"Integrating mental and physical health care is important because you cannot have good control of physical health outcomes when mental health issues such as anxiety and depression go untreated. In our patient population, with limited care access and transportation issues, having psychology resources available during the primary care visit is vital."
"The 'warm handoff,' in which a primary care provider introduces the clinical psychology services team to the patient can really improve willingness to seek care, particularly since there remains an unfortunate stigma for many in acknowledging that they are experiencing mental health issues."
Integrating mental and physical health care services at the clinics has been an effective method for improving patient outcomes. Behavioral and physical health problems are often interconnected; treating one side of a patient's problems but not the other often means more care, and more costs, down the road. Study findings show patients receiving this type of integrated healthcare had fewer hospitalizations and emergency room visits.
Psychology professor Bruce Rybarczyk and vice provost for community engagement Catherine Howard celebrated the success of the Safety Net Collaborative this spring's Currents of Change Award Ceremony. Also pictured are Kathy Yost Benham, director of Client Support and Mental Health Services at the Fan Free Clinic, and Paul Perrin, Ph.D., assistant professor in the Department of Psychology, who supervises the program at the Daily Planet. Photo credit: Steven Casanova.
These results are evident on the MCV Campus. Waller, who works as an assistant professor in the Department of Internal Medicine, says the clinic has seen "decreased admission rates for medical illness for our patients who utilize clinical psychology students compared to controls."
The success of the program has not gone unnoticed. This year the collaborative won VCU's Currents of Change Award, which recognizes mutually beneficial partnerships between the university and the Richmond community.
This experience in collaborative, team-based care is invaluable for both medical and psychology trainees. Since the collaboration began, 80 doctoral students have worked at the clinics, six of whom have gone on to work in integrated care positions as a result of their experience at VCU.
Medical residents also benefit from the help offered by their colleagues in the psychology department, as many report greater work satisfaction and significant benefits for their patients since the collaboration started.
Waller says that outpatient care is moving from a model that emphasizes productivity to one that focuses on medical outcomes. Cohesive, interdisciplinary teams like the collaborative will be better equipped to meet the demands of the newly emerging outpatient medical system.
The collaborative has been funded for three years by the HRSA Graduate Psychology Education program, and this past summer additional support was received from the Virginia Health Care Foundation and Richmond Memorial Health Foundation.