Federal grant expands trainee-delivered behavioral health for safety net primary care clinics
June 20, 2014
Left: Elizabeth Collison, fourth-year clinical psychology doctoral student, left; Cathy Wheeler, R.N., director of clinical operations for the medical clinic at Fan Free Clinic; and Kathy Benham, director of client support and mental health services, Fan Free Clinic.
Federal grant funds from the Health Resources and Services Administration have enabled Bruce Rybarczyk, Ph.D., to expand trainee-delivered behavioral health services to two additional safety net primary care clinics: Fan Free Clinic and The Daily Planet. Trainees have the opportunity to help underserved patients make changes to their health behaviors while taking into account co-morbid medical and mental health conditions. Both ventures have proved very successful in expanding trainee's clinical experiences and providing patients with a valuable service.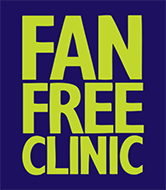 In 2013, Kathy Benham, director of Fan Free Mental Health Services, worked with Rybarczyk and Elizabeth Sadock, fifth-year clinical psychology doctoral student, to add fully integrated behavioral health to the clinic's extensive list of services. Similarly, Rybarczyk and Andrea Garroway, also a fifth-year clinical psychology doctoral student, collaborated with David Pullen, behavioral health consultant, and Ellen Fleenor, current medical director, to integrate behavioral health services into The Daily Planet's primary care clinic. The Fan Free Clinic, founded in 1968, was the first free clinic in the Commonwealth of Virginia and has a mission to help the underserved by providing case management, outreach, mental health services and primary care services. The Daily Planet opened in 1969 with an initial goal to help teens dropping out of school and society; it currently offers comprehensive, integrated healthcare services to those who are homeless or at risk of homelessness.

At The Daily Planet, the VCU psychology students providing behavioral health services have termed themselves the 'behavioral medicine team' to reflect the full integration in the medical clinic and to differentiate themselves for patients and providers from the existing behavioral health clinic, which provides mental health and psychiatric services. Previously, the behavioral health services offered by Fan Free Clinic and The Daily Planet were primarily provided in the mental health clinic. Now, by embedding the services within the primary care clinic and maintaining strict adherence to the primary care mental health care model (PCMH) behavioral health services are fully integrated into primary care. Several additional clinical psychology doctoral students have served as behavioral health clinicians at both clinics over the past year, including Tom Moore, Elizabeth Collison, Amma Agyemang, Bryan Jensen, Renée Grinnell and Cassie Overstreet.
At Fan Free Clinic, behavioral health providers generated most of the referrals (85%) since the launch of the new service by meeting with patients prior to their scheduled medical appointment to introduce themselves, explain the scope of their services and attempt to schedule interested patients. Out of all of the patients approached by our trainees, 42% made an initial behavioral health appointment, 30% said they would call in the future if they were interested and their schedules permitted and only 28% were either not interested or not in need of services. Referrals were generated in a similar fashion at The Daily Planet through provider and patient education.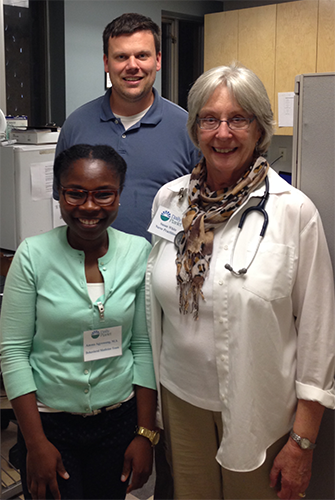 Amma Agyemang, clinical psychology doctoral student, left,; David Pullen, behavioral health consultant; and Susan White, nurse practitioner.
Behavioral health providers also participated in the annual Project Homeless Connect at the Richmond Convention Center, in which The Daily Planet and several other community organizations came together to connect chronically homeless adults to many on-site services in a single day.
At both clinics, patients identified a range of behavioral health concerns they wanted to address during their appointments. Common referrals included weight management, insomnia, smoking cessation, pain management, managing chronic illness and adjustment to diagnosis, stress and anxiety, depression and referral to specialty mental health. The types of referrals illustrate a strict adherence to the PCMH model, which focuses on helping patients make behavioral health changes. This fidelity to the model is possible because patients whose needs are beyond the scope of the model are easily triaged to on-site counseling and psychiatric services. This is not always feasible at clinics without on-site resources that rely on behavioral health providers to serve as specialty mental health providers, as well. Therefore, this is a unique training setting that offers trainees the opportunity to practice pure behavioral medicine treatments.
The behavioral health providers frequently consult with the medical and mental health staff about mutual patients. Over the past six months at Fan Free Clinic, they consulted with medical and mental health staff 39 times for the 48 patients who were receiving behavioral health care, which provided patients with more comprehensive health care overall. For example, a 27-year-old male patient was referred by his medical provider for smoking cessation. The behavioral health provider used cognitive behavioral therapy to help the patient address the thoughts, behaviors and emotions that were maintaining his addiction. The behavioral health provider consulted with the patient's mental health provider who was addressing the patient's anxiety, one of the primary reasons the patient reported smoking. The behavioral health provider also consulted with the patient's medical provider in order to prescribe the patient Chantix. This integrated approach helped the patient decrease his smoking from 10-15 cigarettes a day to 3-5 cigarettes a day prior to his beginning Chantix. At the most recent visit, the patient reported having begun the Chantix regimen and having confidently planned to fully quit smoking by the end of the week.
The addition of behavioral health services at both clinics was possible because of the warm support of the medical staff, mental health staff and patients. Cathy Wheeler, R.N., director of clinical operations at Fan Free Clinic described the impact of behavioral health services on patients:
Poverty imposes intricate and often misunderstood barriers for individuals to overcome. The addition of behavioral health services has afforded our patients another avenue, another level of care that maximizes their ability to manage their health, their circumstances and boost their resilient nature. Behavioral health speaks to the individual in a way that affirms they have value.
Both Fan Free Clinic and The Daily Planet have been invaluable training opportunities for graduate students and will continue to function as training sites. Our hope is to continue to collaborate with the medical and mental health staff to provide underserved patients with the best possible comprehensive care available.
---
By the Numbers Since 2008
VCU Primary Care Psychology Training
Mission Part I:
To address unmet mental health (e.g., depression, anxiety) and behavioral health needs (e.g., weight loss, adherence, smoking cessation) by providing brief, interdisciplinary-focused services in Richmond safety net primary care clinics.
Since 2008, we have provided more than 6,500 sessions of free care to underserved patients.
Most patients have significant difficulty accessing mental health services and many have never seen a mental health clinician previously.
Services are provided at four different urban clinics in Richmond: adult and pediatric primary care at the VCU Medical Center, The Daily Planet Clinic for the Homeless and Fan Free Clinic.
Funded by over $1 million in grants from the Health Resources and Services Administration's Graduate Psychology Education program, the Virginia Health Care Foundation and the VCU Health System.
Four publications, three master's theses and three dissertations are providing research data addressing the efficacy of integrated primary care.
Mission Part II:
To equip future psychologists to meet the workforce demands of a changing healthcare system— one that is predicated on expansion of patient-centered primary care, including integrated behavioral services.
Since 2008, over 50 students from all class levels of the VCU clinical and counseling psychology doctoral programs have participated for at least one semester; more than 20 students have been fully or partially funded through grant support.
About 75% of students who have advanced to internship selected a site where they have continued/will continue primary care training.
Six students have advanced to post-doctoral fellowships that include primary care and three of four licensed graduates are now in permanent staff positions that include primary care work since the program's inception.
Seven licensed clinical faculty members or affiliate faculty members have received funding to provide training and on-site supervision.
Since 2010, we have hosted ten tri-annual, team-based learning workshops to foster interdisciplinary collaboration with about 90 trainees per session from psychology, medicine, and pharmacy.
---
by Elizabeth Sadock and Andrea Garroway, fifth-year clinical psychology doctoral students
June 20, 2014